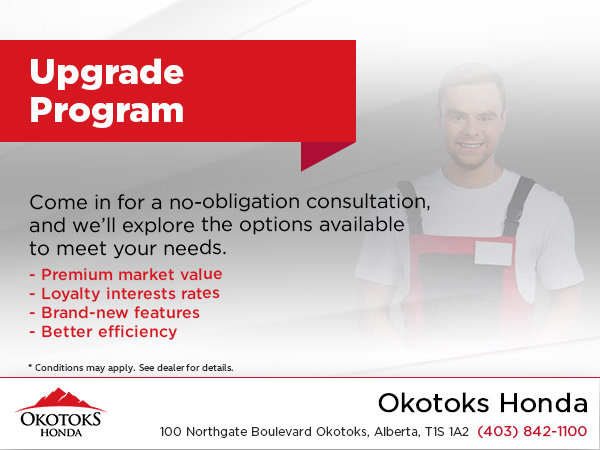 Our Okotoks Honda Upgrade Program is a program that allows you to upgrade to a safer, more reliable vehicle while keeping the same or lower monthly payment. Don't believe it? Try it. You may be surprised.
Schedule an appointment for a no-obligation consultation. We'll review different options tailored to meet your budget needs. Upon mutual agreement, we'll pay your service bill when you Trade-IN & Upgrade to a new or used car.
PREMIUM MARKET VALUE
With the high demand for used cars, receive loyalty trade-in bonuses above our market value assessment.
TAILORED PAYMENT OPTIONS
With various ways to upgrade to a new or used car, we present you with tailored payment options to suit your budget needs.
LOYALTY INTEREST RATES
With rates as low as 0.99% and eligibility for a 1% rate reduction, a new Honda isn't far-fetched. Let's show affordable it can be.
SAFETY, SECURITY, AND TECHNOLOGY
With new technology, features and benefits, take advantage of Honda's best value without having to pay extra for it?
REDUCED MAINTENANCE & REPAIR COSTS
If your Honda is costing you more money in maintenance, gas, and repair, the Upgrade program helps keep money in your pocket.
BRAND-NEW FEATURES
Sit inside the new Honda Civic or CRV and see how much has changed in comfort, style, luxury, and infotainment. With class-leading awards and honorable mentions, the Honda isn't so far out of reach anymore.
FULL HONDA FACTORY WARRANTY
Nothing hurts more than having to spend money on a vehicle when you could benefit from new car warranty. Consider upgrading to a new Honda with new warranty or purchase a Honda Plus Warranty before your mileage expires.
LOWER FUEL COSTS & INCREASED GAS MILEAGE
With Honda's new ECO Technology, better fuel ratings and lowest cost of ownership, upgrading your current car to a new Honda may put more money in your wallet than you can imagine. You may never know your options if you don't drive a new Honda!
*Conditions may apply. See dealer for details.