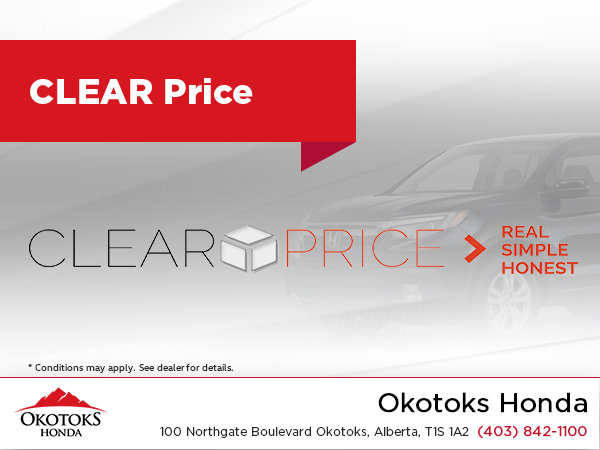 Introducing CLEAR Price: an Okotoks Honda Experience
We know there are a lot of choices to be made when buying a car. Why should pricing be one of them? You shouldn't have to worry about pressure from a salesperson or play any games. You should never have to think you're getting a good deal or the "best" price.
That's why Okotoks Honda CLEAR Price program is about promising CLEAR and TRANSPARENT pricing. We put your mind at ease throughout your purchase experience by allowing full transparency in our price and all itemized accessories, taxes, and government fees, without any surprises.
CLEAR Price is a transparent, hassle-free experience. This is how the car buying process should be:
AMVIC Compliant
The Alberta Motor Vehicle Industry Council (AMVIC) is about supporting a fair automotive marketplace, and at Okotoks Honda, we will demonstrate those values. The ideology extends to transparency in vehicle pricing. AMVIC states that "it is the business owner's, the salesperson's obligation and good business practice, to fully disclose all fees". You can expect this without reservation from Okotoks Honda.
W5 – Let's Make A Deal
The W5 team recently teamed up with the Automobile Protective Association to mystery shop car dealerships in Calgary, AB. The documentary highlights what could happen and how consumers can protect themselves. Watch the video here.